PETITE AMÉLIE ADVISES ON A SUCCESSFUL TRANSITION TO A TODDLER BED
Replacing an infant's cot to a toddler bed is one of those great moments ... just like the first spoonful of mash …
It's a change, a new stage, which makes us once again realise that our little one is grown up and is leaving the world of new-borns. Often accompanied by a little stress, we thought a few tips will help you support your child when the time is right!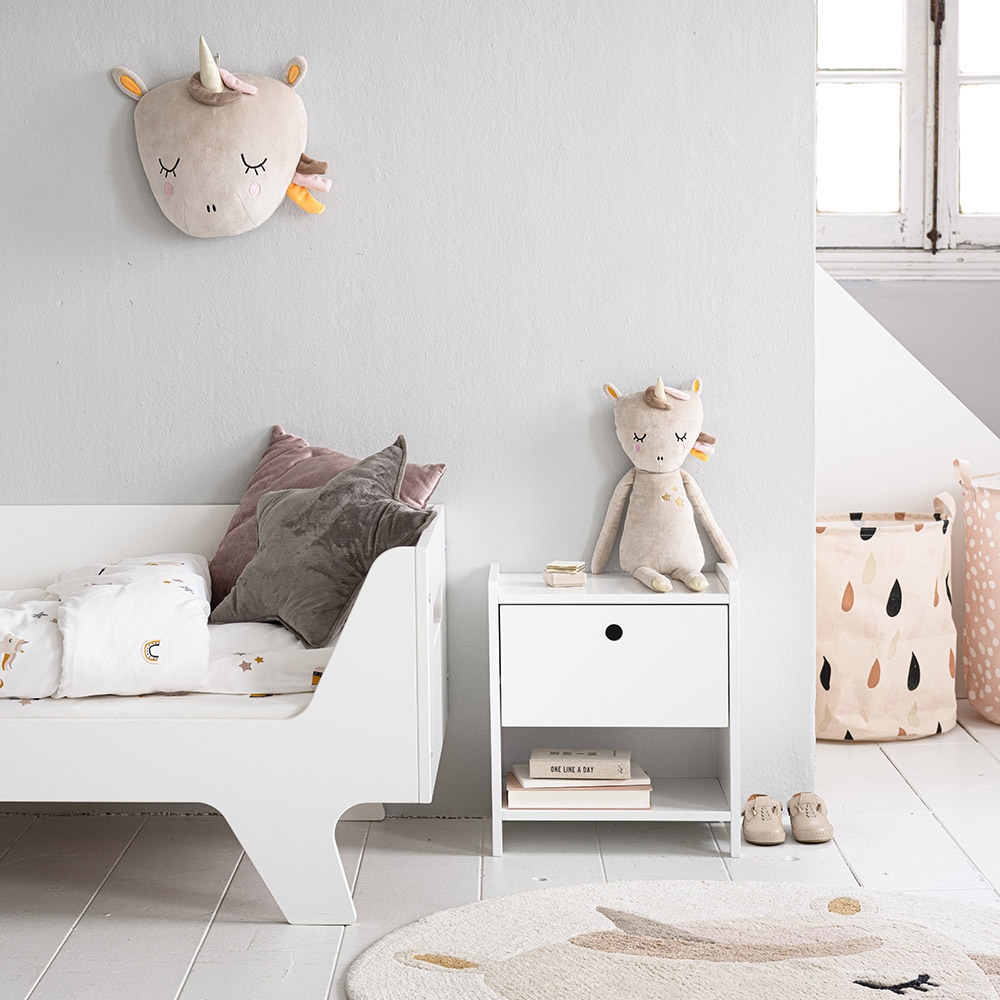 TIP N ° 1: PREPARING YOUR CHILD FOR A 2 YEAR OLD CHILDRENS BED

Switching to a toddler bed is a decision you must make together with your child. You can familiarize your little one with the photo of the bed you have chosen for them, or by taking them along to look at some beds. Browsing through a few catalogues may be a nice idea too.
To choose the "right time", there is no predefined age or correct age that you should follow. The right age will be the one when your little one will show you that they are ready, and where you will feel they are ready ...

Take into consideration, a physical obligation, they will have to be able to get off a sofa or couch for example or from your bed with their feet facing forward.
The "right moment" will also be that of their first attempts to climb out of a crib or cot!
As you know, it is dangerous to let them climb out of a cot, it is preferable to stop them from the possibility of being adventurous by offering a toddler bed instead. We would at all times like to prevent any nasty falls.
To prepare, you could look at pictures with your little one, read stories which contains a 'big girl' or 'big boy' bed in it to familiarise him or her with the idea. It should be an exciting event.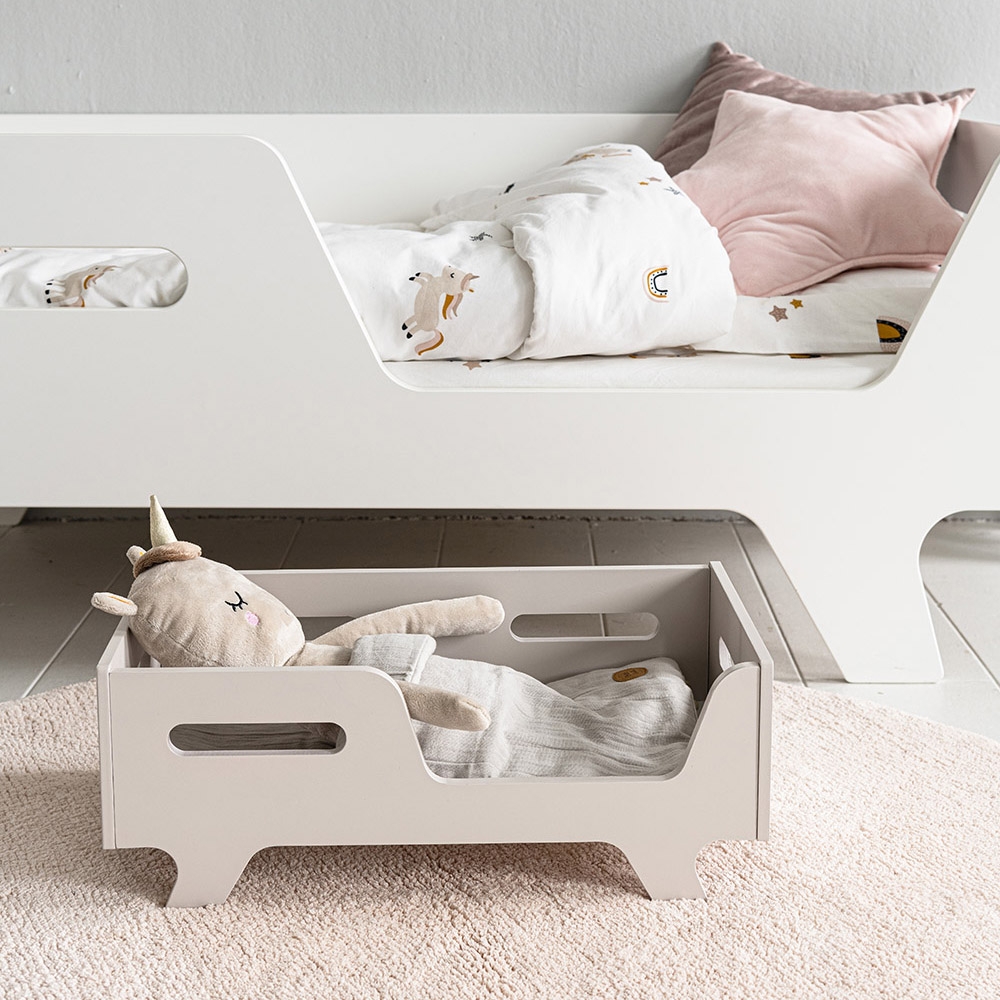 TIP N ° 2: MAKE THIS C
HANGE A HAPPY ONE

!
Granted, it's not that simple ... Any change can become quite stressful in children. However, you will have to keep in mind that this is above all a very positive change ...


"Isn't my child going to fall in his sleep? Will he come and wake us up at 3 in the morning or very early in the morning?" Perhaps you will fear the loss of your privacy ... Or: " Is my child really going to stay in bed until the morning or start playing LEGO in the wee hours of the morning?"

The questions are many, but rest assured most of them have solutions! For the others, you will just have to accept that your little one has grown.
Try to put your stress aside and make it a happy time! Why not invite friends or family for a festive afternoon tea with the installation of the new bed? Your little one needs to be valued and to feel that everything is going to be okay because this is a very positive change. Highlight the new toddler bed with some decorations, balloons, or bunting. It is something that should be celebrated. And let's be honest, who doesn't love a little party among family and friends?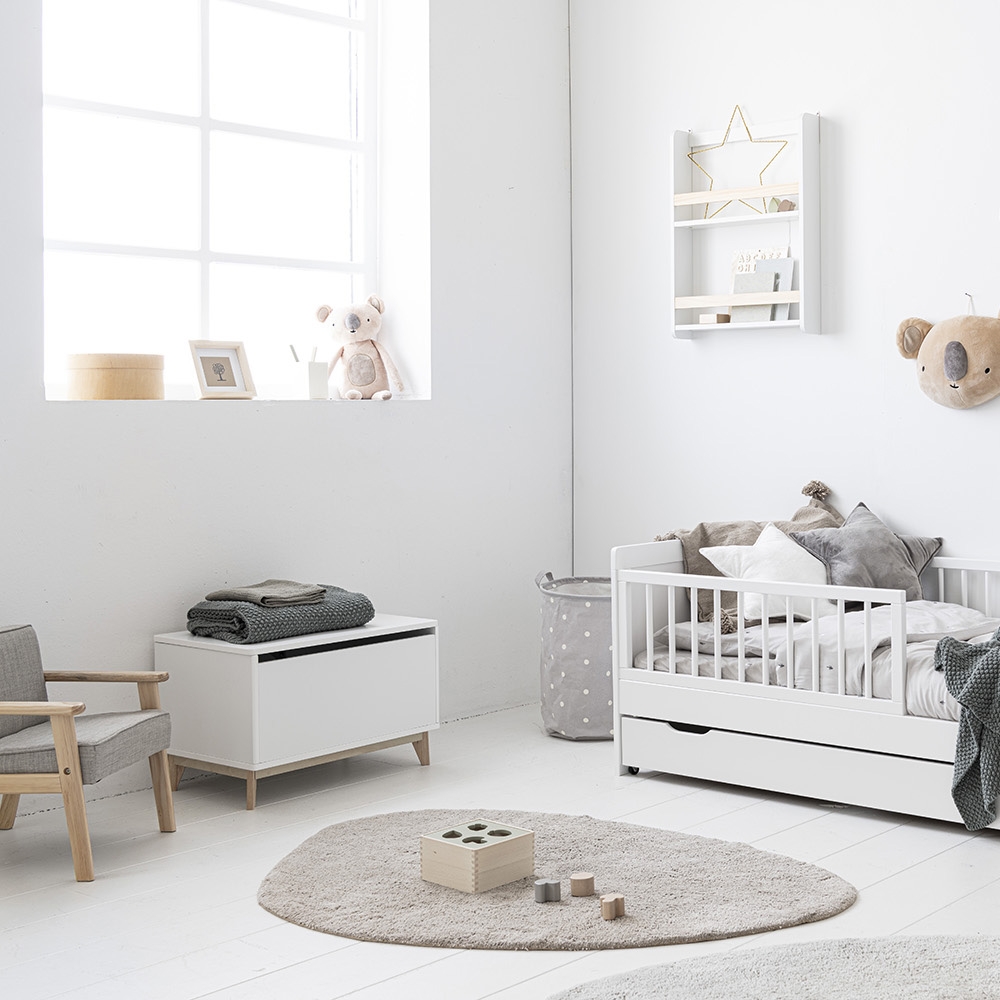 TI

P
N ° 3:
EXPLAIN TH

E BENEFITS OF A "BIG" BED
To introduce a new bed, you can explain all the advantages of this new bed to your child:
- Our childrens beds are as secure as their crib / cot. You can easily reassure them by showing them that their bed now has protective barriers to prevent a fall. This will ensure that they feel secure.
- A child's bed can sometimes be accessorized with a storage drawer for even more storage space to store all their treasures ...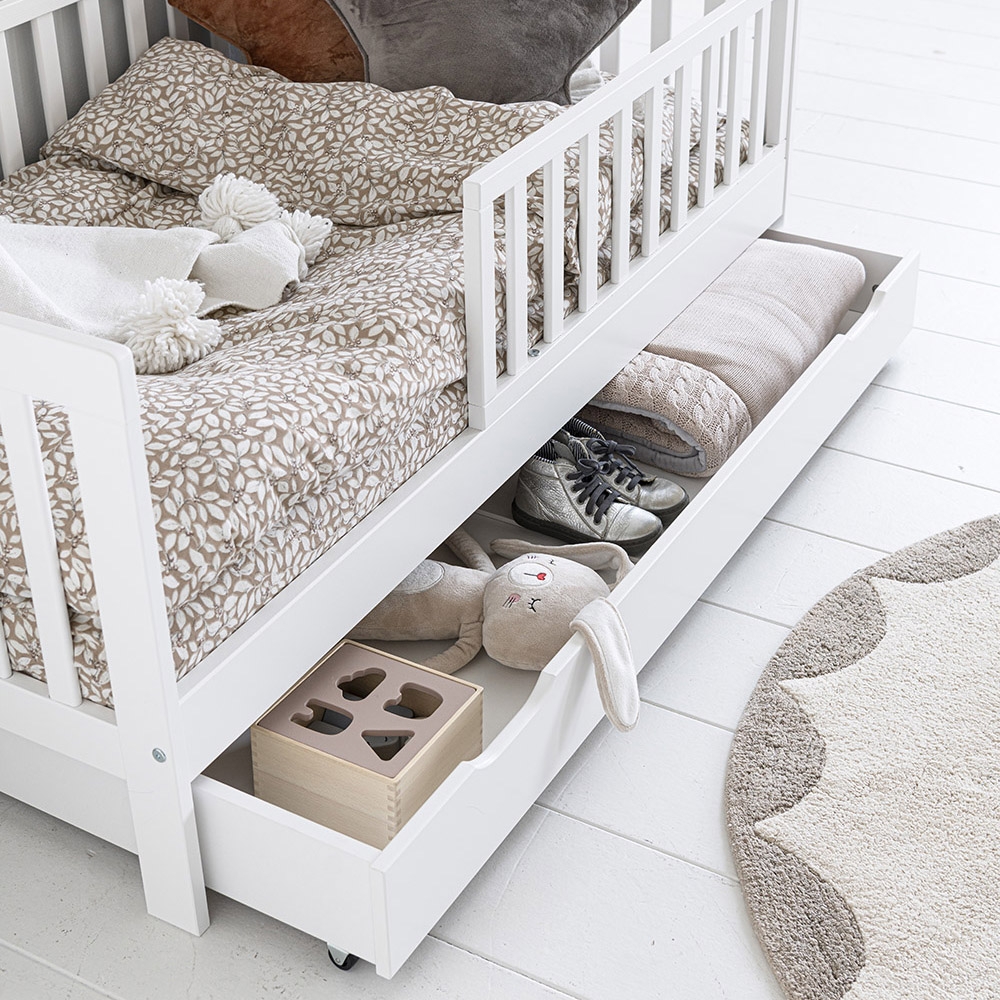 - You can explain to them that they now need a bigger bed because they have grown a lot lately, they can be encouraged by this.
- A large bed will allow them to climb in and out of their own at bedtime or nap time because they now know when they have had enough sleep; and when it's time to go to bed at night ...
- You can also show him the advantage of being able to sit by his side during the bedtime story. This is an exciting and special time for little ones.
- And the last advantage is especially for you (and not the least): you will spare your back ...


Discover our accessories and furniture for children's rooms


Don't forget to congratulate your child on their first night in their big bed! He or she should be proud of themselves, as you are of them!


T

IP
N ° 4: ONE CHANGE AT A TIME

It is a good idea to avoid grouping several important changes over the same period. If a little brother or sister is coming soon, remove the crib a little before or after a few weeks to value him or her in their position of big brother / sister. Here are some other examples of times to avoid: a new nanny, the arrival of a little brother or sister, a big move, starting at a new school ...
And if the crib is passed on to the little brother or sister, wait a few weeks between the two to be sure that your little one has adopted their new "big bed"!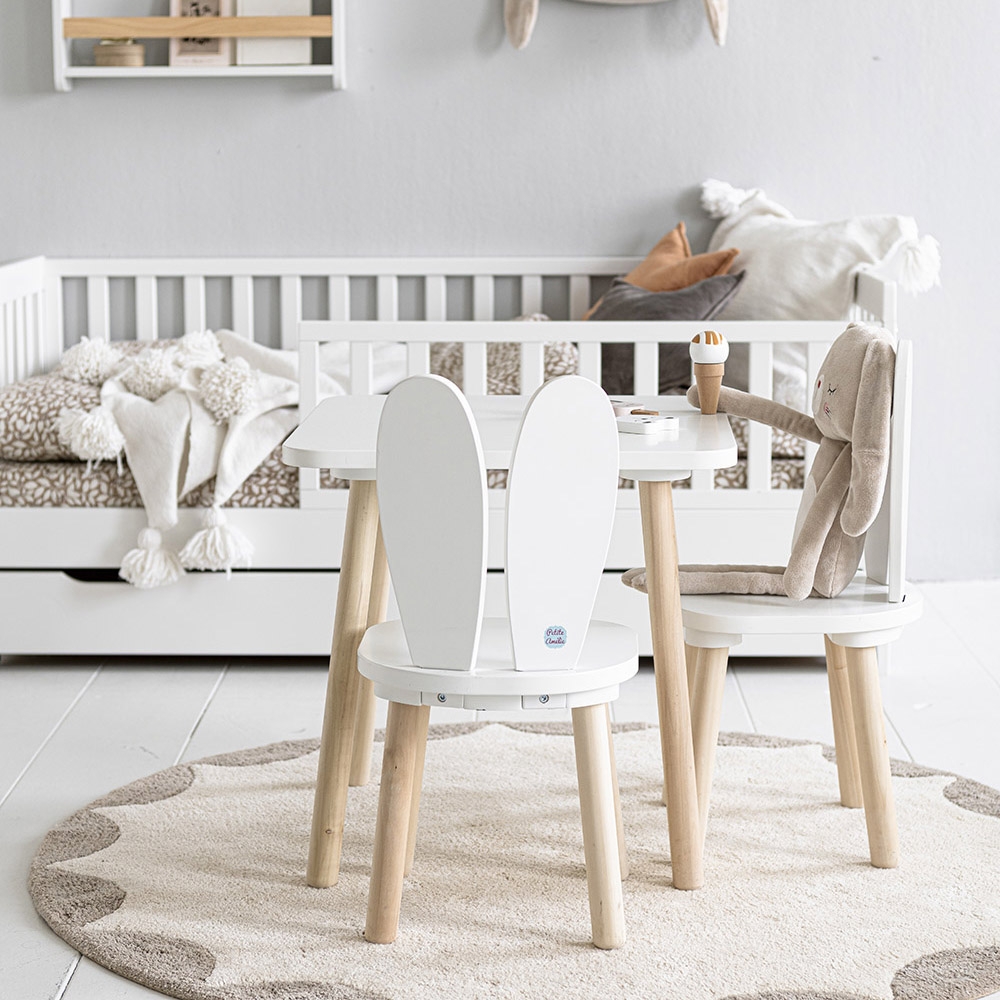 WHITE TODDLER TABLE AND CHAIR SET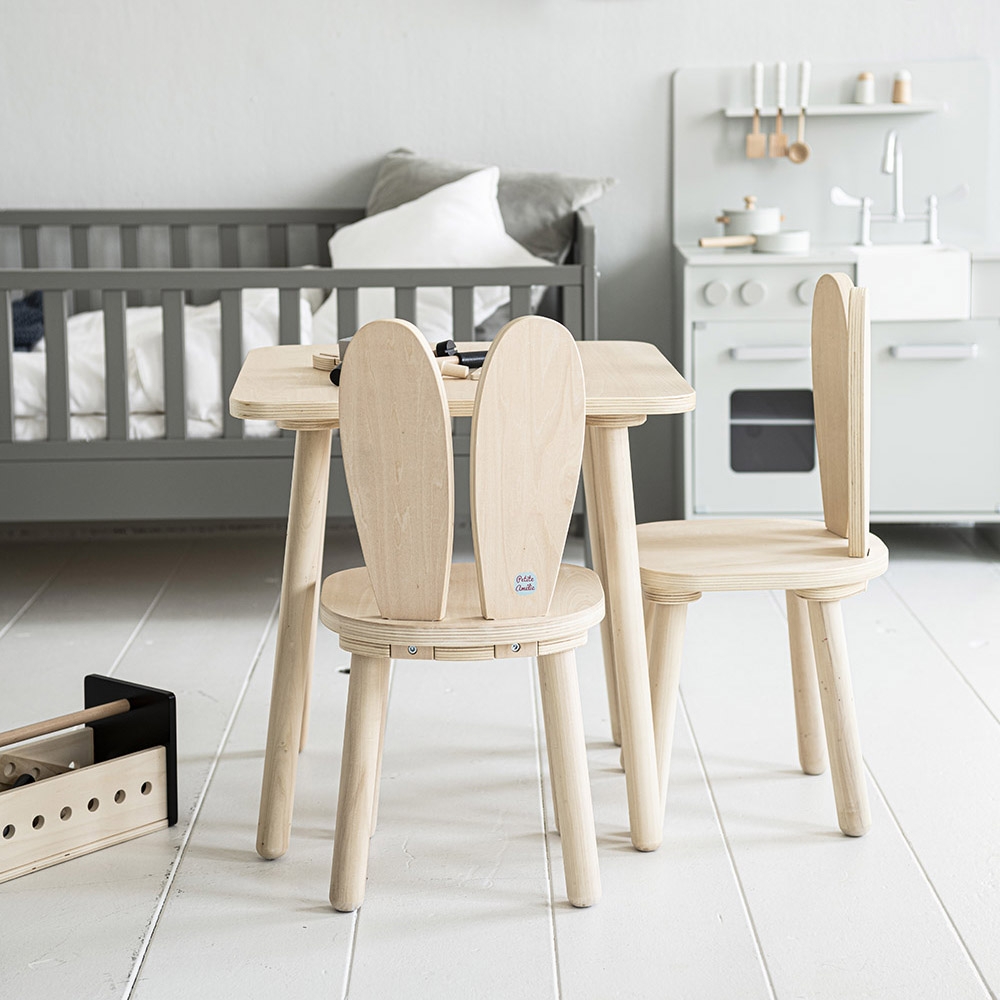 NATURAL TODDLER CHAIR AND TABLE SET
TIP N ° 5: AVOID BACKTRACKING

If you backtrack, then your child will learn that this change was a mistake. Avoid backtracking and you will have made it clear to your child that it is the right time, and you will have made this decision with them so there is no reason to go back to their crib.
On the other hand, if the beginning is difficult, you will be able to find tips to reassure them! By reading a bedtime story while lying in bed or by offering a cozy bedside lamp or a night light, these little things will make a huge difference in making them more comfortable in their new space ...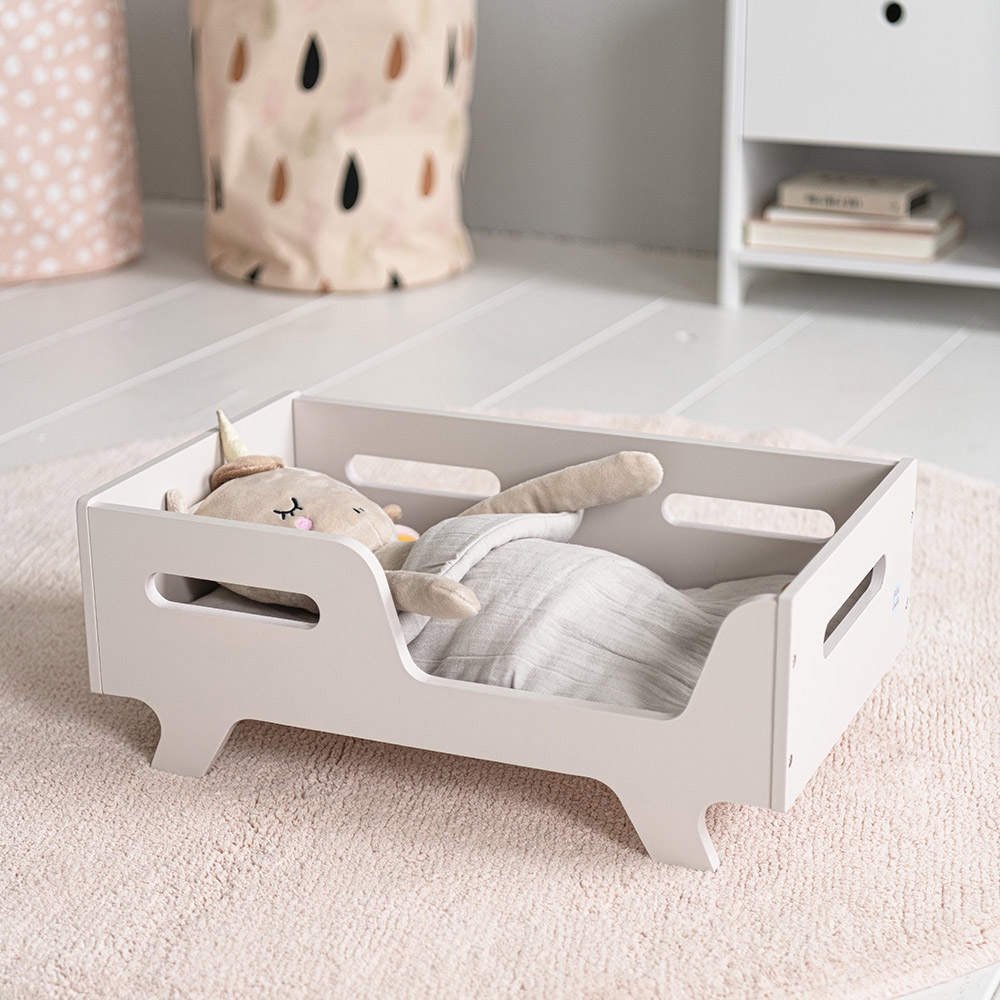 One last tip: always remember that your child is unique and there is no specific age, you will know as a mum, dad or carer, when to find the right time for your little one. It is essential for them to be ready! Be patient and rest assured: no child stays in their crib indefinitely ...
We hope you find these few tips helpful.


Have a good time exploring our website and products!