WHAT IS CO-SLEEPING?
Co-sleeping, or sleeping together, is becoming more and more popular nowadays. While in the past it was advised to let your baby sleep in a separate bed in their own room (it was said to be better for everyone's sleep), now there is a growing preference among parents to sleep close to their newborns in the same room.


Co-sleeping can be done in different ways:
Your baby will sleep in your bed.

Your baby will sleep in a specially designed crib that is placed against the bed, the so-called co-sleeper, bedside sleeper or trundle bed.

Your baby sleeps in a separate crib, in the same room.

This is also called rooming-in.
BENEFITS OF CO-SLEEPING
Below we explain the advantages of co-sleeping:
Ideal for feeding at night and soothing back to sleep.

So you don't have to get out of bed at night to breastfeed or comfort your baby when he or she cries.

Very nice and helpful for both your night's sleep and that of the little ones.

Secure feeling for child and very good for bonding between baby and parent(s), because you can see, feel and smell each other.

Babies have a strong sense of smell: because vision develops later, smell is most strongly developed in the first months.

In addition, your little one will notice that you are close by, so that gives a safe and secure feeling, which in turn helps the bond between parent and child.

Safe feeling for the parent(s): When you hear your child, you are immediately present to calm or feed it.


HOW LONG IN THE BEDSIDE SLEEPER COT?
On average you can use a co-sleeper until your baby is around 6 months, depending on how fast your baby is growing.
Then he or she can sleep in a cot bed or toddler bed.
You can place this in the parental bedroom or close by in the baby room.
DIFFERENT TYPES OF BEDSIDE SLEEPER CRIBS
In general there are two types of baby beds for co-sleeping. The crib you choose depends on the type of bed you have and the height of this bed. Below you can read more about both baby beds:


Free-standing bedside sleeper crib


A freestanding bedside sleeper crib with a movable side barrier, such as our Lilly and Alain.

This crib can be placed next to the parental bed or own its own as it is supported with stabilisers. Your child then sleeps quietly and safely in the bedside sleeper crib.

When you are in bed at night and it is time to feed, let the side barrier slide down and take your child easily in your arms to feed him or her quietly.

When you put your child back in the bedside crib, you pull the gate up smoothly and it can continue to sleep safely in its own bed.

With a sleeping height of up to 70 cm, this bedside crib is very suitable for placement next to a high box spring bed.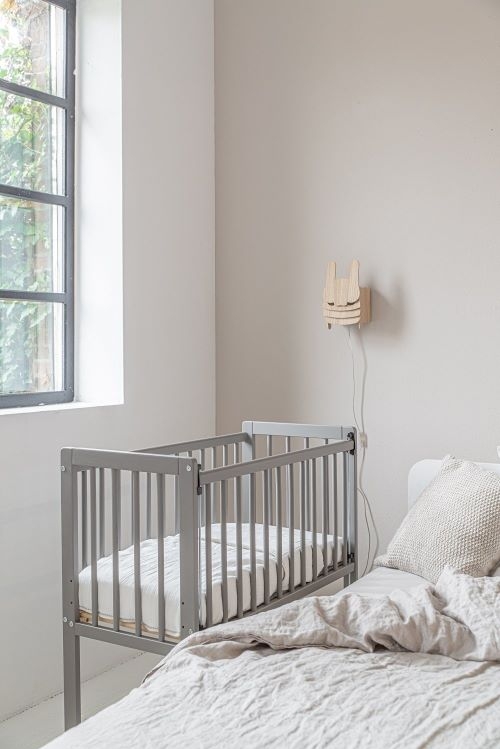 Pictured:
Bedside Sleeper Crib Alain
in Grey by Petite Amélie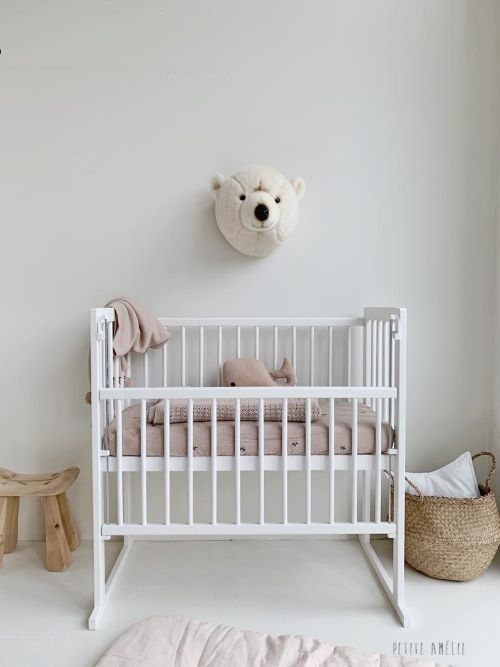 Pictured:
Bedside Sleeper Crib Lilly
in classic white (same as Alain) with a movable side barrier, including eco-mattress


Bedside Sleeper Crib with Attachment


There are also bedside cribs that you can attach to your own bed, such as our Nuage.

Ideal for feeding at night, because your child is right next to you without having to open or close a side barrier.

Your baby is lying on its own mattress, which is adjacent to the parental mattress, but your baby has his or her own bedding.

This type of bedside crib is suitable for traditional beds with a solid bed frame, because the bedside crib has a hook with which it must be attached to the parental bed. Make sure there is

no space between your bed and that of the little one, and you have direct contact with your baby.

Here it is essential that the mattress heights are level to each other.

Our Nuage can also be used freestanding (simply mount the extra side barrier supplied), but can also be converted into a sofa bed.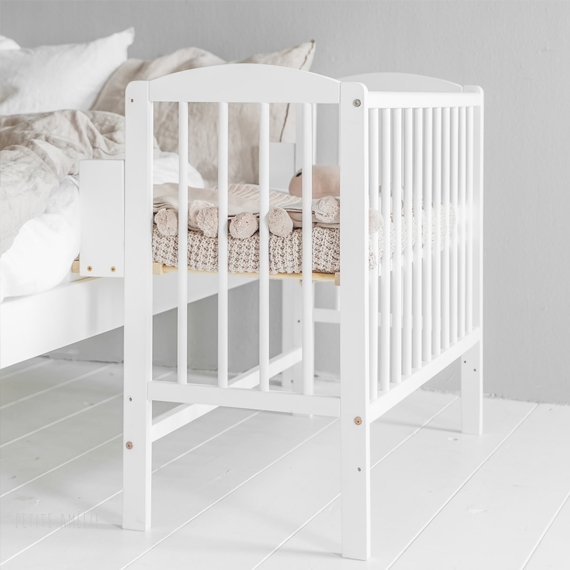 Shown: Bedside Crib Nuage in timeless white


We hope this blog post has given you some more information about co-sleepers and bedside sleeper cribs!

Do you want to know more about us? Then take a look at our webshop and our Facebook and Instagram page.

See you there!