WHAT IS THE RIGHT TIME FOR YOUR BABY TO GO INTO THEIR OWN ROOM?

AFTER YOUR BABY HAS BEEN BORN, REASSURE YOUR BABY BY STAYING CLOSE
After your baby is born, their sleeping and night-time routine will be one of your main concerns and it requires a little preparation if you want to keep him or her by your side. If you want to establish this closeness, you will need to arrange the space needed to set up your bed, bassinet or bedside sleeper crib nearest you.
One of the first advantages of this closeness is the fact that your baby will feel reassured by your presence. The smells, the sounds of his environment bring them security and comfort.

Another big advantage is that breastfeeding moms will find it much easier to wake up at night with a baby nearby. The use of a co-sleeping bed or bedside sleeper crib, adjoining the parent bed is also very useful during night time feedings.

In fact, you just need to lower the bed rail (if there is one) and put your child to the breast without having to move them too much. By minimizing movements and noise, you will make it easier for everyone to fall asleep again.

Keeping your baby close by also keeps the parents content, because they are listening to the baby's reactions, sucking noises, breathing, crying etc…
BABY CHANGING TABLES & BABY CHANGING MATS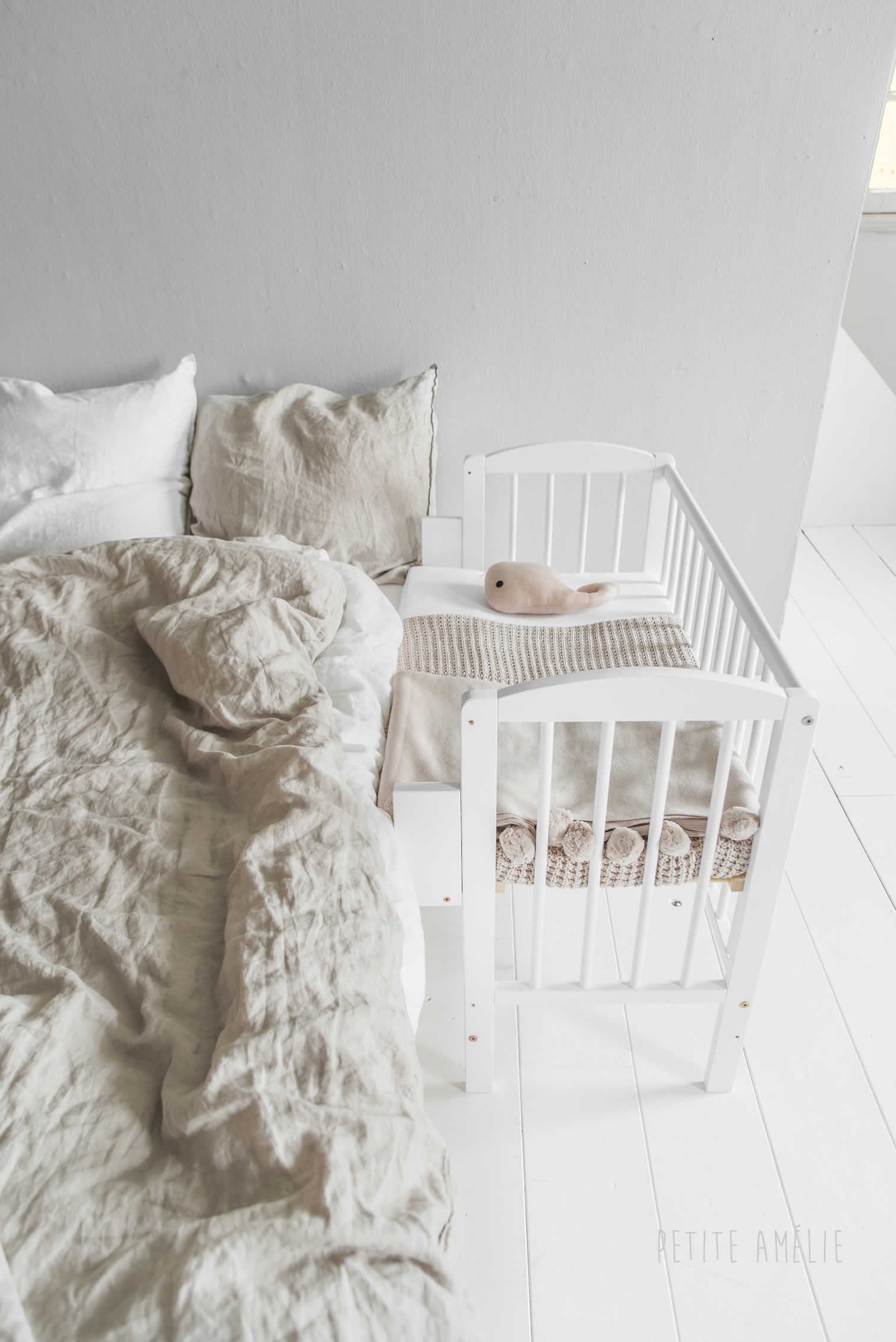 OUR ADVICE FOR A BABY IN THEIR OWN BEDROOM?
1 - Wait until your baby settles into a regular routine.
Little by little your baby will adopt a regular rhythm or routine for meals. When there are fewer awakenings during the night, a return trip to the bedroom will then become possible and easier.

Although each child is unique, there comes a time when the feedings or the bottles become less frequent. We go from a timeline of 3 hours to 4 hours, then a night feed disappears, and your baby begins to create a routine. 5 hours in a row… It's up to you to see when your baby's nigh time routine seems stable enough to allow you to confidently put them in their own room.


2 - Baby sleeps during the day in their own room.

Before leaving your infant at night in their own nursery, it is very useful to wait until they are already familiar with their room, the space, smells, sounds… Give them time to adopt it and start by making them take daytime naps in the nursery.

3 - Special cases

Sometimes parents are initially filled with certainties regarding not to accustom their child to sleep with them… and then reality catches up with them…
When children need to share their room, the cohabitation is difficult or even impossible at first when your baby eats every 3 hours (or less). Thus, in the case of a shared children's room, some parents wait for their baby to space out the time between meals so as not to wake up his big brother / big sister. Once baby sleeps, it is of course easier to group the children in the same room without fear that the youngest will be waking up the older child.

Another reason that may cause you to delay baby's progression to their own room is if your room is on a different floor from that of your children and the back and forth between the two rooms is difficult ....

4 - Creating a comfortable space in the nursery.

In order to guarantee a comfortable feed in the nursery in the wee hours of the morning, it will be essential for you to create a peaceful space in the baby's room.

Here are the essentials:


A night light: The night light will allow you to navigate in a soft atmosphere that will not stimulate baby and yourself too much, allowing both of you to fall asleep easily after the feed.
A baby room rug . A little extra that will bring you comfort and softness in the middle of the night ... Nothing worse than having to move in a space and have cold feet ...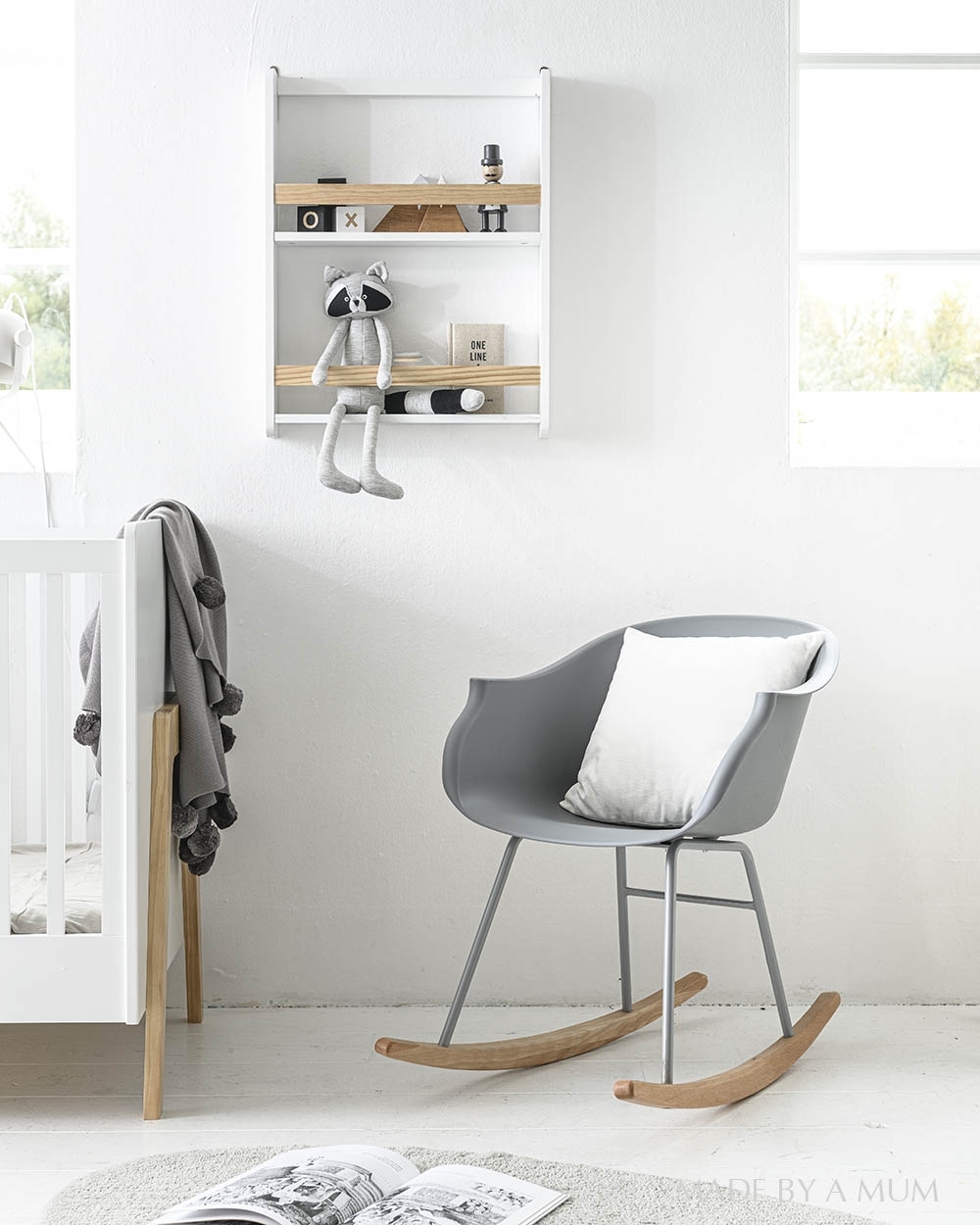 Rocking chair grey baby room by Petite Amélie


5 - Create a play area in the nursery.

Organize a small play area in the nursery when your baby starts to have their playful moments, lying on a play mat or a pretty baby room rug for example. It will also allow them to see their bedroom as a happy, familiar and positive space!


WHEN IS THE RIGHT TIME FOR SEPARATION?
There is no right time and keep in mind that each parent does this according to their desires, their constraints and their own feelings.
Indeed, a baby sometimes makes a lot of noise during his or her sleep and some parents quickly feel the need to put some distance between them to find a more peaceful sleep.

In this case, several solutions are possible to continue to keep an "eye" on your little one, think of a baby monitor with sound and video, or simply leaving the doors wide open to hear them.


OUR LAST TIP: ONE CHANGE AT A TIME!
Finally, last tip, it is always best to make one change at a time. For example, do not combine the move from a bedside sleeper crib to the nursery with a change of milk / formula. Children are sensitive to routines, and it is always good to gently add a new change instead of a variety of changes all at once!