WHY SHOULD YOU CHOOSE WOODEN TOYS?
Unlike plastic, wood is a natural and ecologically responsible material. Even more so when the product is made from FSC wood, a label that guarantees sustainability for the forests. Furthermore, here are other benefits that wooden toys will bring:


Appearance:

wood toys, let's be honest, are much more nicely designed than plastic toys.

In addition to toys, it is also a beautiful decorative accessory that fits in any living room or bedroom.

Robustness:

wooden toys are often stronger and more durable than toys made from a different material.

So they last longer! They

can even be passed on from generation to generation.

How nice is that ?

Design:

wooden toys painted in their original color or in neutral colours (white, grey, black) have a soft, warm design that you will not easily find in plastic toys.
FROM WHAT AGE IS WOODEN TOY SUITABLE?

First of all there are wooden toys for the little ones, such as wooden rattles (from 3 months) and blocks. Pull or push toys are often offered to children from 6 months of age.
From the age of 3 you will find wooden toys that are known as imitation toys, such as a toy kitchen or a dollhouse. This minimum age is required because of the small parts and any accessories that come with the wooden toy. Children under 3 years of age still put a lot of objects in their mouths, so it is important to pay attention to this.

There are also wooden imitation toys that can be used from 2 years. This again depends on the size of the parts supplied.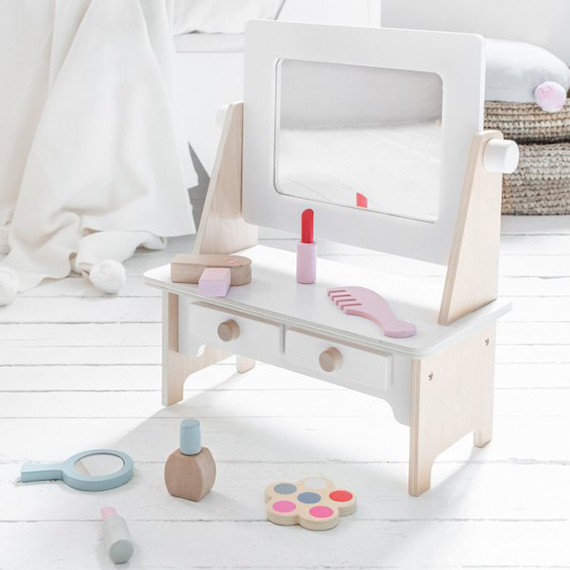 WOODEN TOYS: DEVELOPMENT AND MOTOR SKILLS
Let's talk about the benefits of wooden toys with regard to child development!


1. AWAKENING TOYS: FROM 3 TO 6-8 MONTHS
As the name suggests, this toy is made to wake your baby during the first months.
After 3 months the child starts to catch more stimuli, touch everything and put it in the mouth.
It is good to let your child get used to different materials in order to be able to distinguish them.


2. BABY TOYS: FROM 6 MONTHS TO 2 YEARS
From 1 year, the child becomes more aware of what you can do with different objects.
For example;
throw them on the floor!
Therefore choose solid wooden toys.
Stacking wooden blocks or making puzzles will help your child develop fine motor skills.


3. IMITATION TOYS: FROM 3-6 YEARS
At this age the child makes up stories and starts copying mummy and daddy! A kitchen, dressing table, dollhouse or parking garage are recommended!


WOODEN TOYS FROM PETITE AMÉLIE
Now that you know everything about wooden toys, from the material to its function, it's time to discover the new
wooden children's toy
collection from Petite Amélie!
We have made this for your children: