Image: Light gray handmade Berber blanket with pompoms 150x120cm.


A GREAT FIND IN THE SOUK
After wandering through the beautiful and narrow streets in the souk of beautiful Marrakesh, Petite Amélie came across a small studio where two weavers were busy behind a loom. Outside a man was sitting in the shade enjoying a glass of tea. He smiled and nodded in greeting. Curious as we are, we asked if we could take a look inside and so we started talking to Mustapha, a modest young man.

Patiently and somewhat shyly, he explained that the two men were making Berber blankets. The blankets are made according to old traditions on wooden looms. The weaving technique is passed on from generation to generation, so that the blankets retain their authentic appearance.

The blankets are immensely popular in Riads and hotels in the area, but far beyond Marrakesh there is a demand for these beautiful hand-woven blankets. We also fell in love with the wonderful simplicity of the cotton berber blankets with pom-poms. After a glass of tea and a conversation with the gentlemen, we asked if it was possible to make a smaller version. And yes, for Petite Amélie the men wanted to make a children's version of the famous blanket.
HANDMADE IN MARRAKESH FOR PETITE AMÉLIE
And here is our beautiful, hand-woven Berber blanket collection made of 100% pure cotton. The blankets are finished with light pompoms on both sides. They look fantastic on a children's bed of 140-160 cm long, but also as decoration at the foot of a teenage bed or single bed of 200 x 90 cm. This children's bedspread is exclusively woven for Petite Amélie in a children's size of 150 x 120 cm. They are machine washable at 30 degrees, but use a duvet cover to wash the blanket in to protect the pom-poms.

The colours of our Berber blankets are inspired by our Scandinavian, timeless look. This makes them look great over a toddler or single bed, but they are also beautiful as a play rug (use an anti-slip mat under the rug so that your child can play safely on the rug).

In addition to the Berber blankets, we also had pillows made especially for Petite Amélie in the same quality, naturally with the cute pom-poms. The dimensions of the cushions are: 60 x 60 cm and have pom-poms on all four corners. The pillows are also washable at 30 degrees, in a duvet cover or laundry bag.

In short, the Petite Amélie Handmade in Marrakesh collection of blankets and pillows are a unique accessory for the nursery!
ALL INFORMATION AT A GLANCE
Below you can read the specific information about our Berber blankets and pillows:

• Size: 150 x 120 cm (blanket) or 60 x 60 cm (pillow)
• Usable as: bedspread, blanket for toddler and single bed, play mat, decoration on a 200x90 bed
• The Berber cushion can serve as a decorative pillow or floor cushion
• Colour: off-white, grey, pink, blue, yellow and brown, with pom-poms in the same color
• Material: 100% cotton
• Washing instructions: no warmer than 30 degrees. Tip: wash the Berber blanket was in a duvet cover. This keeps the pom-poms in nice condition
• Production: Handmade in Marrakesh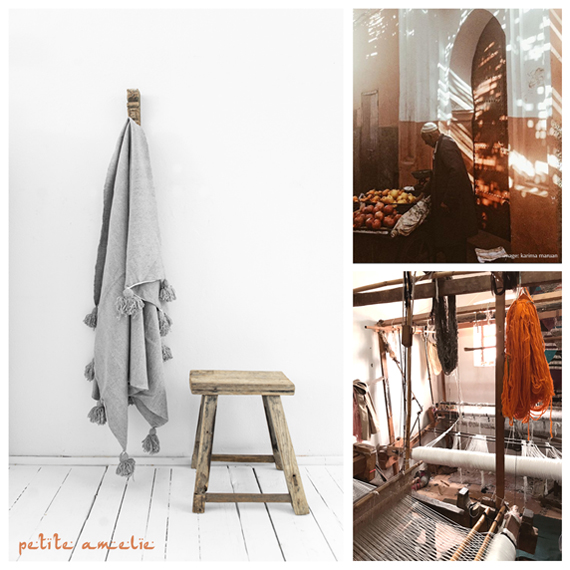 Image: Light gray handmade Berber blanket with pompoms 150x120cm. One of the many beautiful streets in Marrakesh, Karima Maruan Photography. Studio where our Handmade in Marrakesh collection is made.