The baby room is being reinvented: the clichés of gender-linked baby rooms are over. The decoration of children's rooms is refined and enriched with new looks. Now in fashion is a natural atmosphere with a unisex, Scandinavian or nature-based nursery.
Decorative accessories play an important role in creating a themed room, such as a jungle or nature theme. Discover the 2022 trends for your child's bedroom.
1. THE WOODEN BABY ROOM
For a natural and trendy decor, a wooden baby room provides warmth and can be a great start to a timeless nursery. With a wooden baby cot you can decorate the baby room according to different themes: Scandinavian, jungle or a maritime theme...
2. BABY ROOM RUGS: THE NEW DECORATIVE ELEMENT
The children's rug is perfect for bringing originality and personality to a baby's room. The washable rugs are no longer a problem in keeping a room clean. You can easily put the rug in the washing machine, just like the children's bedding. Just make sure you choose a kids rug that is marked as machine washable!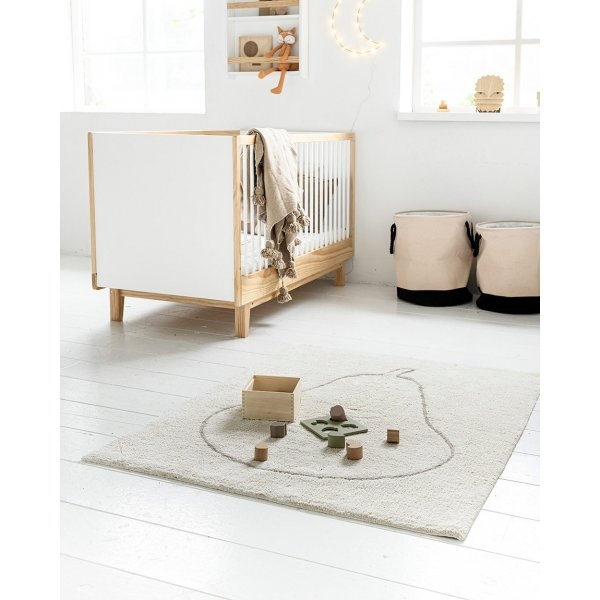 3. CHANGING TABLE: A MUST FOR THE BABY ROOM

For changing the baby in his or her first years, but also for storing smaller baby things: the changing table is the new must-have for the baby's room!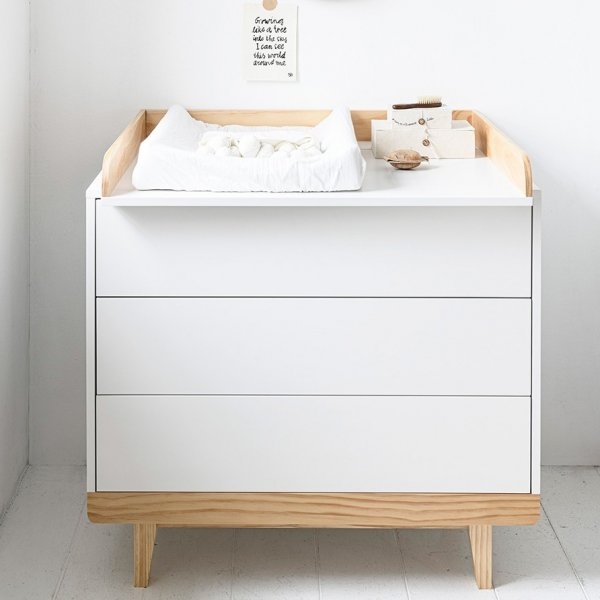 4. WALLPAPER IN THE CHILDREN'S ROOM
A painted wall or wallpaper? Once out of style, wallpaper is back and it's one of the biggest trends in decorating every room in the house. As an accent on one of the walls of the nursery, the wallpaper can consist of flowers, animals, a jungle theme or a forest-like natural decor... The returning trend is certainly a favorite with many.
5. TRANSITIONAL BED: THE DURABLE AND TRENDY BABY BED!
Make way for useful and sustainable purchases. The market for baby furniture and accessories is large and continues to grow. With a cot for the baby room you can make a sustainable purchase.
The extendable bed can be used from 0 to 5 or 6 years. When your little one is about 2 years old, he or she would prefer to sleep in a larger bed. Easily remove the side rails to convert the bed into a real toddler bed.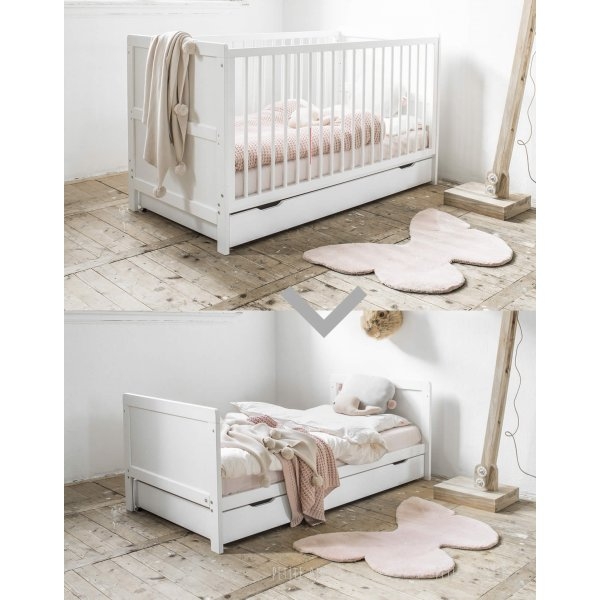 6. NATURAL MATERIALS IN THE CHILDREN'S ROOM
Rattan, jute or wicker baskets: natural materials give a nice holiday and travel feeling to every children's room. Use wicker baskets or bamboo in the nursery for a natural look. The natural materials create a trendy, but calming atmosphere.
7. FLORAL OR ANIMAL WALL DECORATION
Wall decor provides a personal touch to the walls and completes the baby's room. Wall shelves, plush animal heads or light decoration. Choose your child's favorite motif or animal and create a themed room! Think, for example, of a rainbow or circus room. Dare to combine different wall decorations, this will certainly have a nice effect!

8. UNISEX DECOR FOR A GENDER-NEUTRAL ROOM
Don't worry, colors haven't disappeared from children's rooms! But natural, neutral colors are becoming increasingly popular. They provide softness and tranquility in the children's rooms.
Green, grey, yellow and all shades of beige, gray and brown are becoming more and more popular!
9. A JUNGLE OR FOREST THEME BABY ROOM
One of the biggest trends in nursery themes is a jungle theme: a tropical wallpaper and plush monkeys, birds or tigers… Everything you need for a hugely adventurous nursery.
10. DARK GREY OR BLACK FOR A CHIC DECORATION
Scandinavian interiors like to use gray and black in the design of children's and baby rooms. Elegant and timeless: the gray or black baby room no longer creates a sad atmosphere, contrary to what many may think. The graphic and contrasting black and white decor of the baby's room can easily be softened and warmed up with accents of beige, wood and green...
What do you think of Petite Amélie's new dark gray "Playwood" nursery?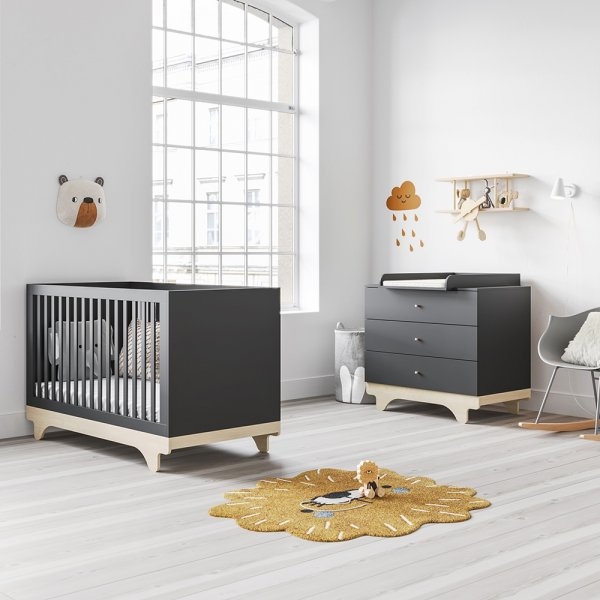 11. THE BED CANOPY
A canopy decorates and brings warmth to the nursery. The canopy can be hung above the cot or it can be used as a tent with a soft play cushion underneath.
12. BABY BED LINEN
To dress up the cot or cot, you can think of our organic cotton fitted sheets. When you let colors from the room return to the bed, you create a beautifully cohesive whole.
13. ROCKING CHAIR OR NURSING CHAIR FOR THE BABY ROOM
Rock, put to sleep, soothe and feed the baby at night. The rocking chair is increasingly appreciated by future and young parents. A beautiful and practical addition to the birth list!
ROCKING CHAIR FOR IN BABY ROOM
14. STORAGE FOR THE BABY ROOM
The baby's room can be very clear in the beginning, but it will soon be full of toys, games and other baby items. It is therefore important to think carefully about the storage options and to make them as functional as possible. This is possible through well-adapted storage solutions: a wardrobe with hanging space, a toy box, etc.
15. A WHITE AND WOODEN BABY ROOM: A BEAUTIFUL SOFT COMBINATION
Elegance and softness: wood remains a must in the decoration of any room. The "Cerise" crib below is one of our favorites. The wooden base of the crib warms up the baby's room, while the white of the side panels illuminates and brightens up the room.